Heat illness is a serious medical condition that occurs when heat exposure exceeds the physiological capacity of the body to cool itself. This results in an increase in the core body temperature that can produce a range of heat-related symptoms, from treatable heat cramps to heat stroke.
Heat stroke can be fatal, especially if medical treatment is delayed. UC Merced has developed a heat illness prevention program to plan for, prevent and respond to heat-related illness situations. Supervisors and employees should learn how to recognize and respond to heat-related illness, train others to protect themselves and ultimately prevent heat-induced illness.
Below is a brief summary of the information available in the heat illness and prevention program manual.
How to recognize and respond to heat-related illness:
Heat illness is a group of serious and escalating medical conditions that can result from the body's inability to cope with a particular heat load.
These illnesses include heat fatigue, heat rash, heat cramps, heat exhaustion and heat stroke. Heat exhaustion is a precursor to heat stroke, the most serious heat-related illness, both of which are described below. See the heat illness and prevention program manual for more details about recognizing and responding to heat-related illnesses.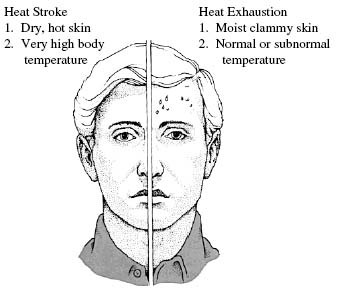 How to prevent heat-related illness through awareness and training:
All employees, including supervisors, who might work outdoors in conditions where there are environmental risk factors for heat illness shall be provided heat illness prevention training. General prevention of heat illness includes the following:
Take breaks and rest in shaded areas.
Stay hydrated by drinking plenty of water.
Avoid vigorous physical activities in high heat.