If you are experiencing discomfort associated with working remotely after attempting the suggestions below, please notify your supervisor and follow the steps listed on the Evaluation Procedures page. Supervisors can contact Ergonomics Program staff at ergocat@ucmerced.edu for help and assistance.
---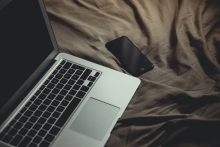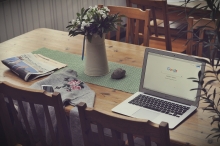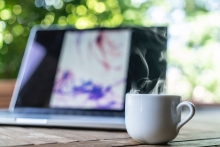 Remote Work Tips
HOW TO USE REMOTE WORK TIPS FACT SHEETS
Remote office work can present unique challenges to working ergonomically. These Remote Work Tips provide in-depth suggestions on how to improve your home work station. Such suggestions include setting up your desk, adjusting your chair, and proper placement of your computer and accessories.
You do not have to make sweeping changes all at once; incremental change allows you to "test out" those changes and decide if more adjustments to your home office setup are necessary. Preventing strain and discomfort that may occur as a result of a poorly designed workstation setup is essential to reducing eye, neck, back, and hip/leg pain associated with working at a computer for long periods of time. Do not forget to take regular stretch breaks! These breaks allow your muscle groups to relax and reduce nerve pain associated with muscle fatigue.
Setting up a home office for the first time can be challenging, but by reviewing these fact sheets and making a few changes over time, you will have an optimized computer workstation that reduces strain on the body and improves comfort while working. 
*Fact Sheets courtesy of UCLA, modified for UC Merced*
---
Ergonomic Self-Assessment
1. Click here to be redirected to Risk and Safety Solutions.
2. Login using your UCM email.
3. On the right corner, click the button like the figure below:

4. Then, fully complete the assessment until it gives you your risk reports.
---
Equipment
Employees may take their laptop, power cord, and storage devices to their remote location, provided they have inventoried these items per the Telecommuting Guidelines. If it is absolutely imperative to your job function for you to take UC-owned peripherals home to fulfill your job duties:
a. You must have approval from your department manager before taking peripherals home
c. Peripherals that may be used at home if it is imperative include:
            i. Monitor
            ii. Keyboard
            iii. Docking station
            iv. Mouse
            v. Headset
            vi. Webcam (non-integrated)
d. The same guidance applies if it is imperative for your job function to take home a UC-owned desktop computer
University equipment in the employee's off-site workspace is subject to the same inventory control and disposal procedures as that in the primary work site, as all equipment, records, and materials provided by the University remains the property of the University. The employee is responsible for bringing equipment to the primary work site for inspection, maintenance and repair. The employee is responsible for protecting University-owned equipment, records, and materials from unauthorized or accidental access, use, modification, destruction, or disclosure. This includes electronic records as well as hard copy documentation. If any incidents of loss, damage, or unauthorized access occur, the employee must report the occurrence to their supervisor at the earliest reasonable opportunity.
---
Frequently Asked Questions