Biosafety cabinets, or biological safety cabinets (BSCs), are designed to provide a clean work environment and protection for employees who work with biological hazards.
Biological Safety Cabinets: How They Work to Protect You
At a minimum, biosafety cabinets shall be used for BSL-2 work unless the IBC permits benchtop work, and when the need arises for manipulation of pathogens that are likely to create aerosols (such as vortexing open tubes, pipetting, opening caps after centrifuging, sonicating, aspirating with a syringe, etc.). Use BSCs for all manipulation of airborne transmitted pathogens.
Working in a BSC
The work station within the BSC should be set up such that work is conducted from "clean to dirty." That means that stock solutions, clean serological pipets, etc., should be on one side of the cabinet, your working area in the middle and used media, serological pipets, etc. collected on the side opposite the clean side.
Aspiration of culture media with a vacuum should be set up as follows: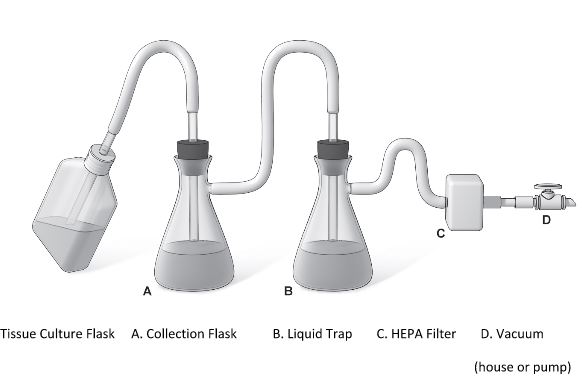 This setup can be right to left or left to right, but on the "dirty" side of the biological safety cabinet.
Add bleach to primary vacuum flas (A in Figure above) to equal 10 percent of maximum collection volume. Maximum collection volume should be no more than 2/3 full.
Label flask "Tissue culture media decontaminated with bleach 9:1."
Aspirate tissue culture volume to the chlorine bleach in the flask to make a final concentration of 10 percent bleach (nine parts TC media:one part bleach).
After reaching maximum volume, allow a minimum of 20 minutes contact time. Empty flask to laboratory sink.
Vacuum (D in figure above) is turned off at the end of the day.
Liquid trap (B) and hydrophobic HEPA filter (C) are placed in line before vacuum source.
How do I maintain my BSC?
Wipe down surfaces with 70 percent ethanol or other appropriate disinfectant before and after use.
If using the internal UV lamp as part of the sterilization process, be sure to wipe down the lamp with 70 percent ethanol once a week.
Biosafety cabinets require annual certification if you are using infectious agents, human cell lines or tissues and before relocation of the cabinet. The BSC must be re-certified again after it has been moved to ensure proper function.
Certification of BSCs is not conducted by EH&S, but the biosafety officer participates in the regulation of BSC use based on certification status. PIs are responsible for having their BSCs certified after purchase, followed by yearly certification.
Note that work shall not be conducted in BSCs that are out of date or have expired certification.